Culligan of Tomah
You could give your people Culligan Water.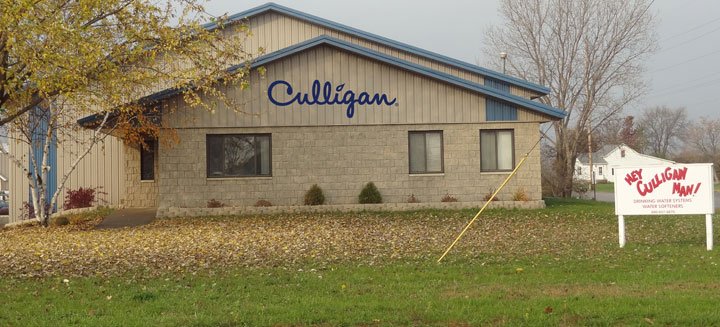 Your Tomah Water Treatment Experts
We are Culligan of Tomah, WI - your water technology experts proudly serving Central Wisconsin and Southeastern Minnesota. We are proud to serve Adams, Juneau, Jackson and Monroe counties. Our dealership specializes in providing water softeners, reverse osmosis systems, water coolers, bottled water, water filtering and softener salt delivery service to area homes and businesses.
CULLIGAN OF TOMAH HISTORY
Founded in 1948, Culligan of Tomah services over 7,000 customers in Tomah, WI and the surrounding areas. Whether you need soft water, pure drinking water, or the best of both worlds, Culligan has the solution. Culligan softeners eliminate the hard water that increases energy costs and shortens the longevity of water using appliances. Culligan bottled water and drinking water filtration eliminate possible water contaminants and provide great tasting water. We have over 60 years experience with local water conditions and can discuss the best solution for you.

---
Reviews for Culligan Water Conditioning of Tomah
---
10/21/2021
Overall a great experience, from meeting and doing paperwork to set up and delivery. My family and i look forward to working with them.
---
06/15/2021
The Kennedy household has been using Culligan of Tomah for years. Curt has been the technician who normally visits. He is so knowledgeable and always glad to explain things and answer my questions...because I always have some. LOL Curt genuinely cares about his customers and is a great ambassador for Culligan. Lucky to have him! Culligan is a top notch company
---
12/07/2021
Great service, customer service, and reasonable price!! Delicious water!!
---
10/08/2021
The men were very polite and answered all my questions.
---
06/01/2021
Great service, prompt service and Jason was very knowledgable and offered suggestions to improve my water taste.
---
---
Hey Culligan!
Hours
Monday: 8:00 AM – 4:30 PM
Tuesday: 8:00 AM – 4:30 PM
Wednesday: 8:00 AM – 4:30 PM
Thursday: 8:00 AM – 4:30 PM
Friday: 8:00 AM – 4:30 PM
Saturday: Closed
Sunday: Closed
Areas We Serve
53967, Adams, Alma Center, Arkdale, Babcock, Black River Falls, Camp Douglas, Cashton, Cataract, Elroy, Friendship, Grand Marsh, Hillsboro, Hixton, Hustler, Kendall, Lyndon Station, Mather, Mauston, Merrillan, Millston, Necedah, Nekoosa, New Lisbon, Norwalk, Oakdale, Ontario, Oxford, Pittsville, Sparta, Tomah, Tunnel City, Union Center, Warrens, Wilton
Learn more about how you can have better water.
Latest
Blog Posts
Culligan Water solutions help you become greener, cleaner and more cost-efficient with your water use. Learn how.
From deep-cleaning your floors to reviving your garden, spring home improvements start with your water. So why wouldn't you use...
Great Company. Is always on time with my salt. I never have to call them, they just email me when they show its time to refill, and let me know that someone will be there to put in salt on a certain date and time. I don't like people going in my home when I am not there so I get the option to just send a preference on where I would like them to leave it, super convenient Would recommend this company to others!

Amber Bishop
- Culligan Customer